Macnica Cytech's reference designs are showcased in Intel FPGA China Innovation Center
The grand opening of Intel FPGA China Innovation Center was held in Chongqing on 19 December 2018. The exhibition hall inside displays designs done by Intel and its partners, with utilization of FPGA. Part of Macnica Cytech's FPGA reference designs are showcased.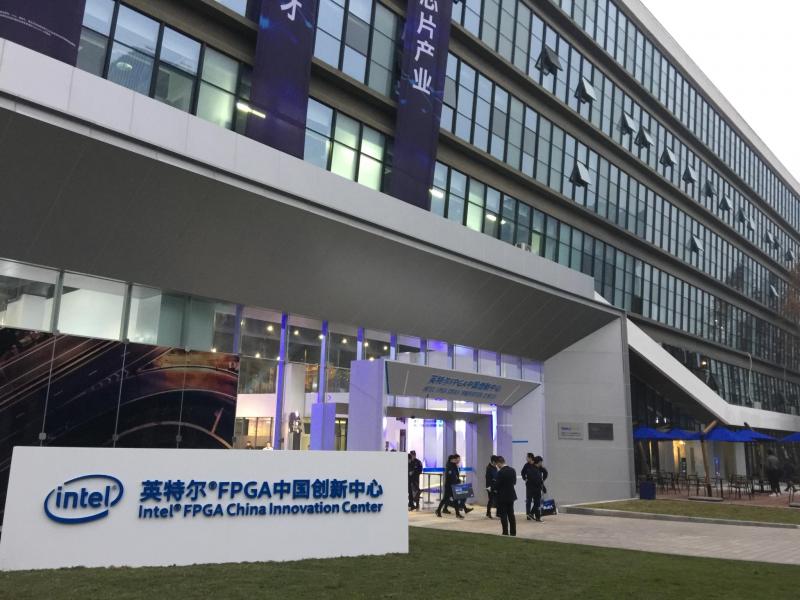 1. EtherCAT Solution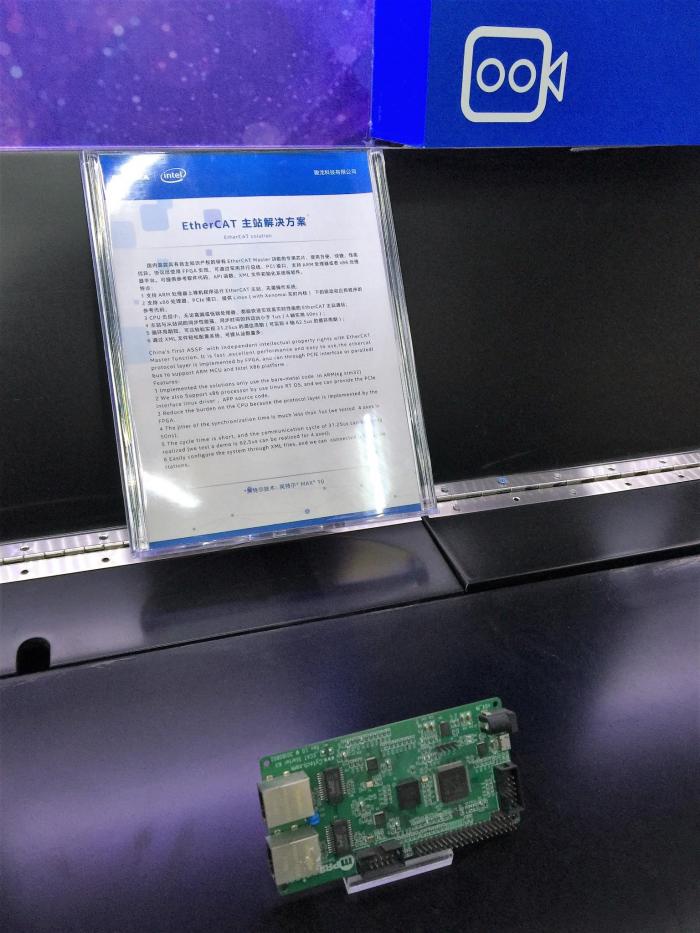 China's first ASSP with independent intellectual property right with EtherCAT master function. It is fast, with excellent performance and easy to use. It can go through PCIE interface or parallel bus to support ARM MCU or x86 platform. Software's reference code, API function, and software for XML document initialization system etc. could be provided.
Characteristics:
⦁    Supports the bare-metal programming for EtherCAT master on ARM processor; no operating system is required
⦁    Supports x86 processor and PCIe interface; reference code of Linux (with Xenomai real-time kernel) driver and application is provided
⦁    Small burden on CPU; real-time EtherCAT master communication could be quickly achieved, no matter with high-end or low-end processors
⦁    Strong synchronization between master and slave; the jitter of synchronization time is smaller than 1us (4-axis measurement 50ns)
⦁    Short cycle; a 31.25us communication cycle could be achieved easily (4-axis 62.5us cycle could be achieved)
⦁    Various salve stations could be connected and configured through XML document configuration system
2. Real-time Video Clarification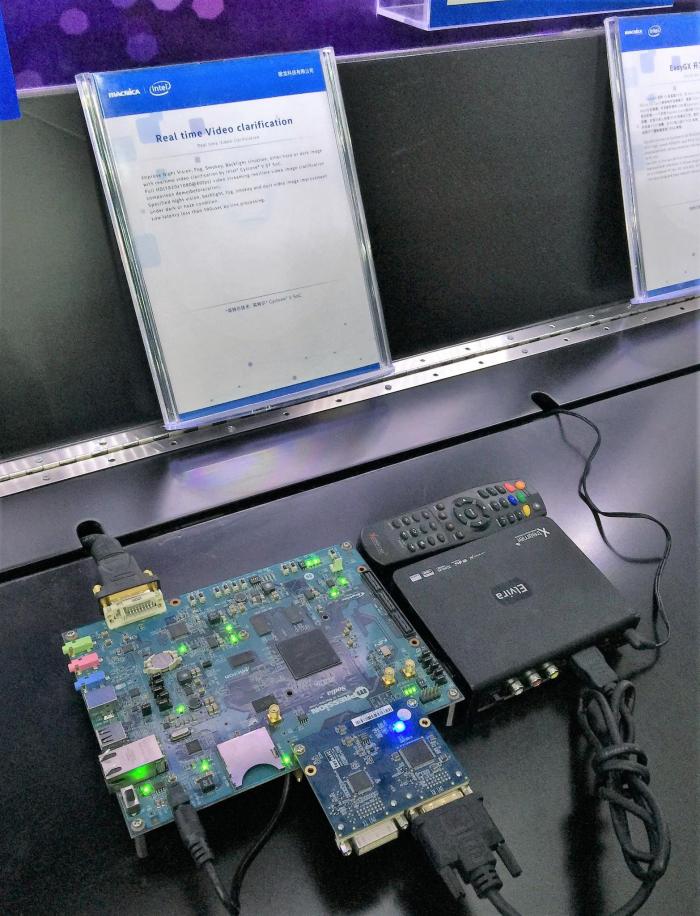 Improve night vision, foggy, smoky, backlight situation, other hazy or dark image with real-time video clarification by intel Cyclone V ST SOC. Full HD (1920x1080@60fps) video streaming for real-time video image clarification comparison demo (before/after). Specific night vision, backlight, foggy, smoky and dusty video image improvement under dark or hazy condition. Low latency less than 100usec by line processing.
3. Easy GX Development Kit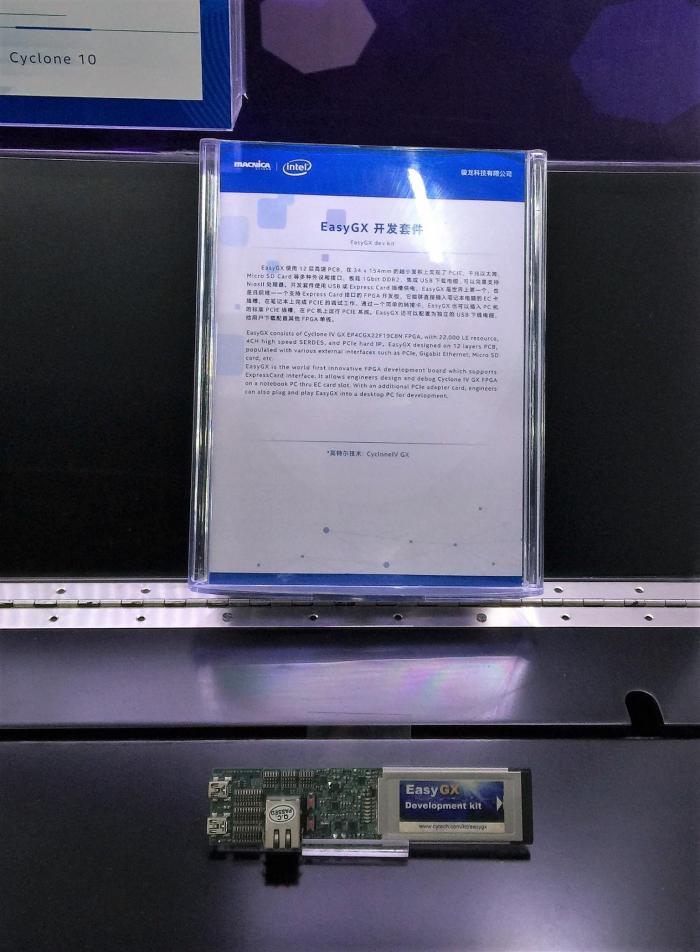 Easy GX designed on 12 layers PCB, with a small form factor of 34 x 154mm, populated with various external interfaces such as PCIe, Gigabit Ethernet, Micro SD card, etc. It also equipped with 1G DDR2 memory, embedded USB-blaster, and NIOS II embedded CPU. It is able to adapt to USB or ExpressCard interface as power supply.
4. Helio Intel Cyclone V SoC Development Kit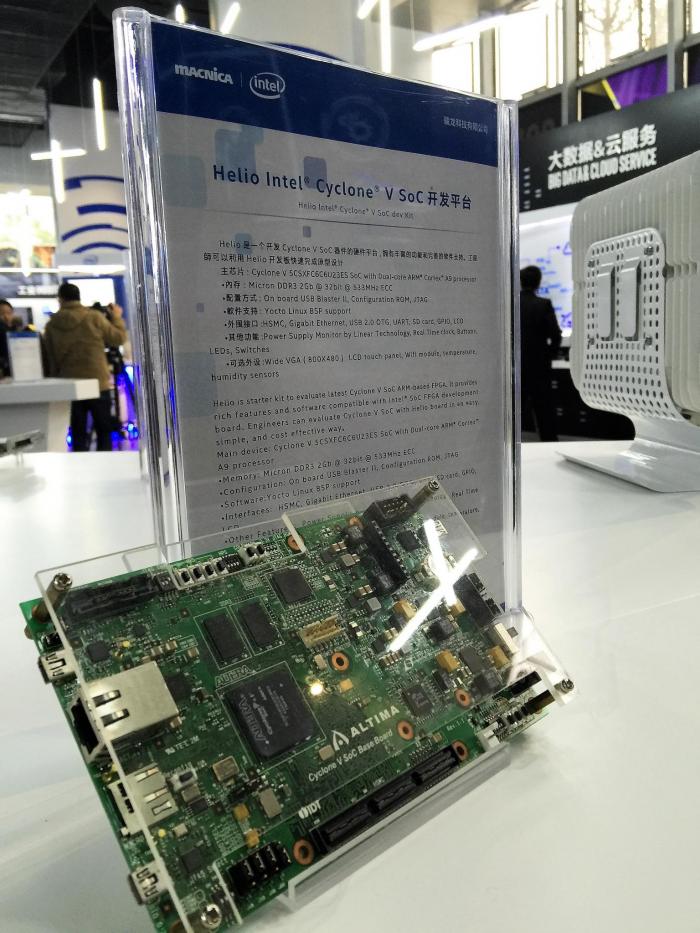 Helio is starter kit to evaluate latest Cyclone V SoC ARM-based FPGA. It provides rich features and software compatible with Intel® SoC FPGA development board. Engineers can evaluate Cyclone V SoC with Helio board in an easy, simple, and cost-effective way.               
Main device: Cyclone V 5CSXFC6C6U23ES SoC with Dual-core ARM® Cortex™ A9 processor;
Memory: Micron DDR3 2Gb @ 32bit @ 533MHz ECC;
Software: Yocto Linux BSP support
5. Odyssey MAX 10 FPGA & BLE Sensor Kit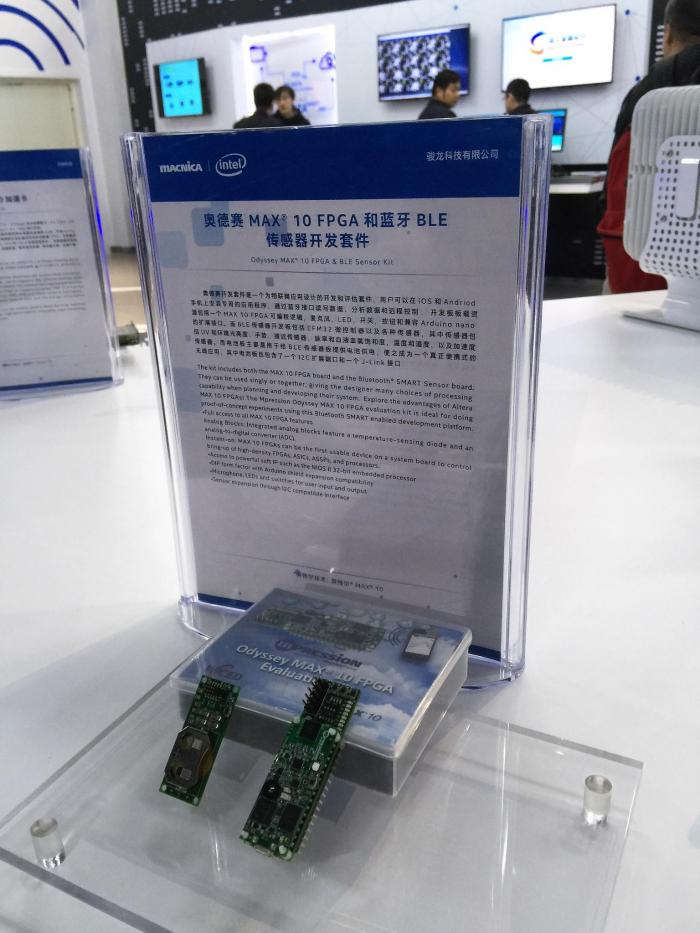 It is a development kit for IoT application design's development and evaluation. Customers can install a dedicated application in iOS or Android mobile phone. Customers can also read and write data, analysis data and remote control through Bluetooth interface. The kit includes a MAX 10 FPGA programmable logic, Microphone, LEDs and switches and compatible  Arduino nano expansion interface.
Macnica Cytech will continue to innovate and develop more reference designs with Intel FPGA.
---
For details of Macnica Cytech's products and solutions, please contact the company's regional offices, follow Macnica Cytech's WeChat official account to leave messages, or leave messages through the company website.