Odyssey MAX®10 FPGA Eval Kit
Whether you are collecting and processing data, controlling a remove device, or just adding extra hardware processing to an industrial or IoT design, MAX 10 FPGAs offer outstanding value and have the features and capability you need to achieve your design goals.
Odyssey MAX 10 FPGA Evaluation Kit
Explore the advantages of Altera MAX 10 FPGAs! The Mpression Odyssey MAX 10 FPGA evaluation kit is ideal for doing proof-of-concept experiments using this Bluetooth SMART enabled development platform.
Uses a non-volatile Altera MAX 10 FPGA
Full access to all MAX 10 FPGA features, including:

Dual-configuration: MAX 10 FPGAs provide a single-on-die Flash memory that supports dual-configuration, for true fail-safe upgrades.
Analog Blocks: Integrated analog blocks feature a temperature-sensing diode and an analog-to-digital converter (ADC).
Instant-on: MAX 10 FPGAs can be the first usable device on a system board to control bring-up of high-density FPGAs, ASICs, ASSPs, and processors.
DSP blocks: As a non-volatile FPGA with DSP, MAX 10 FPGAs are ideal for high-performance, high-precision DSP applications.

Access to powerful soft IP such as the NIOS II 32-bit embedded processor
DIP form factor with Arduino shield expansion compatibility
Microphone, LEDs and switches for user input and output
Sensor expansion through I2C compatible interface
Buy Your Odyssey MAX 10 FPGA Evaluation Kit
 If you want to order this kit, please contact with us: inquire@cytech.com
Mpression Odyssey Smart Phone App
Create a Smart Phone Interface App Without Writing Any Code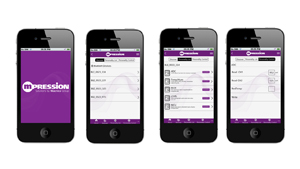 Use our phone app set up and control your MAX 10 FPGA Evaluation Kit. You can control the FPGA through the app without creating custom user interface hardware as well as run experiments with different sensors and process data. With our phone app web portal, you can also personalize your app to select sensor parameters to be measured and how you want to display them. The app is free and will be available for Android and iPhone.
Pre-Loaded Personalities
The Odyssey MAX 10 Evaluation kit has pre-loaded personalities that combine a reference design and smart phone interface. With these personalities, you can quickly access and control sensors on the Odyssey Bluetooth SMART sensor board. Information for each personality will highlight what the functions are and information about the sensors or other devices being used.
Learn More
Coming Soon: "How-To" Videos
Macnica will offer short 2-10 minute videos to help you get up and running quickly with your Odyssey Bluetooth SMART Sensor Kit. These videos will include topics such as:
Odyssey Board Environment and Discovery (Quick Start)
Interact With The Odyssey Bluetooth SMART Sensor Kit Using A Smart Device
Downloading A Personality To The Odyssey Bluetooth Sensor Board
Documentation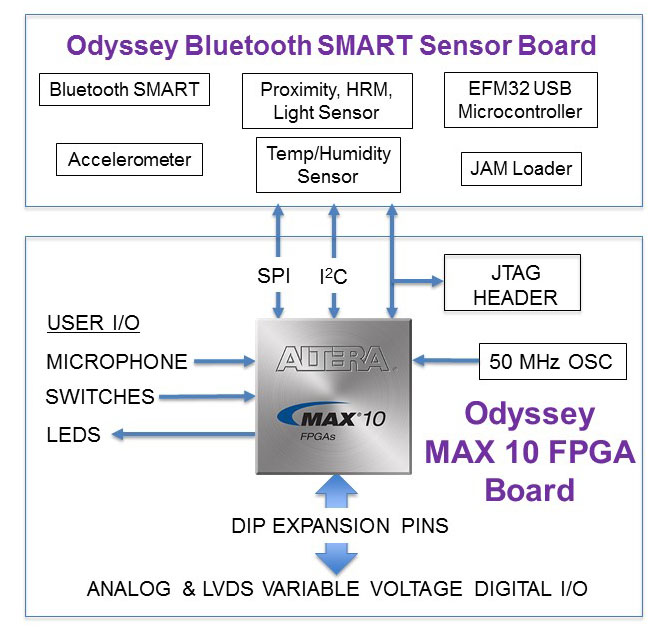 Supported By Our Supplier Partners and IP Developers