Overview
Industrial Ethernet became more and more popular in industrial control sphere. There is a variety of types of protocol, e.g. Mechatrolink III, EtherCAT, Powerlink, Profinet, EtherNet/IP etc. Mechatrolink III and EtherCAT are mainstream protocols in CNC machining field, yet it is difficult to achieve cooperative communication between different protocols. 
Mechatrolink III by YASKAWA Electric Corporation is an advanced industrial ethernet technique, which is widely used in CNC machining field, and is frequently applied in servo devices. However, it faces the shortage of compatible I/O or sensing equipment. In China, I/O or sensing equipment mostly applies EtherCAT. 
Macnica Cytech announces a MIE SoC module which transfers Mechatrolink III to EtherCAT Master. The module solves the lack of compatible equipment of Mechatrolink III. It enables quick access to reduce system load. The module also supports multiple I/O device access.
Solution transferring Mechatrolink III to EtherCAT
Refer to the graph below for existing solution,

The main system supports two protocols at the same time and this increases the cost of setting up the system. In addition, the difficulty of system development causes large input of both software and hardware. Also, the huge burden of CPU will lead to increased cost for system update. 
Refer to the graph below for MIE SoC module solution,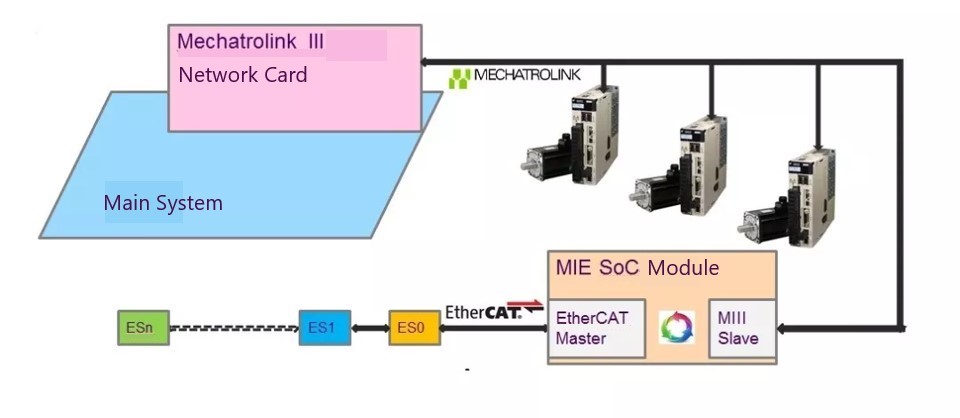 There is no change in main system's hardware and no input of development hardware. As a result, no burden will be caused to the CPU. Only MIE SoC module is required for the quick setup of EtherCAT equipment expansion. 
Introduction of MIE SoC module
Refer to the image and graph below for the actual MIE SoC module and structure diagram. The basis is Intel Cyclone V SoC module, a small SoC which can self-start when power is on. The FPGA part integrates two Mechatrolink III slave and EtherCAT master IPs under Macnica Cytech's property right, and data conversion between Mechatrolink III and EtherCAT. The MIE SoC module not only transfers Mechatrolink III Slave to EtherCAT master, but also can achieve a dual master system (Mechatrolink III master + EtherCAT master). The ARM A9 processor on FPGA chip completes the initializations of Mechatrolink III and EtherCAT, periodic interruption processing, exception handling etc.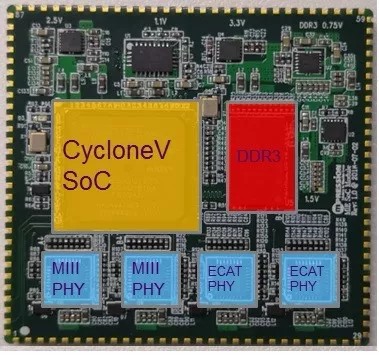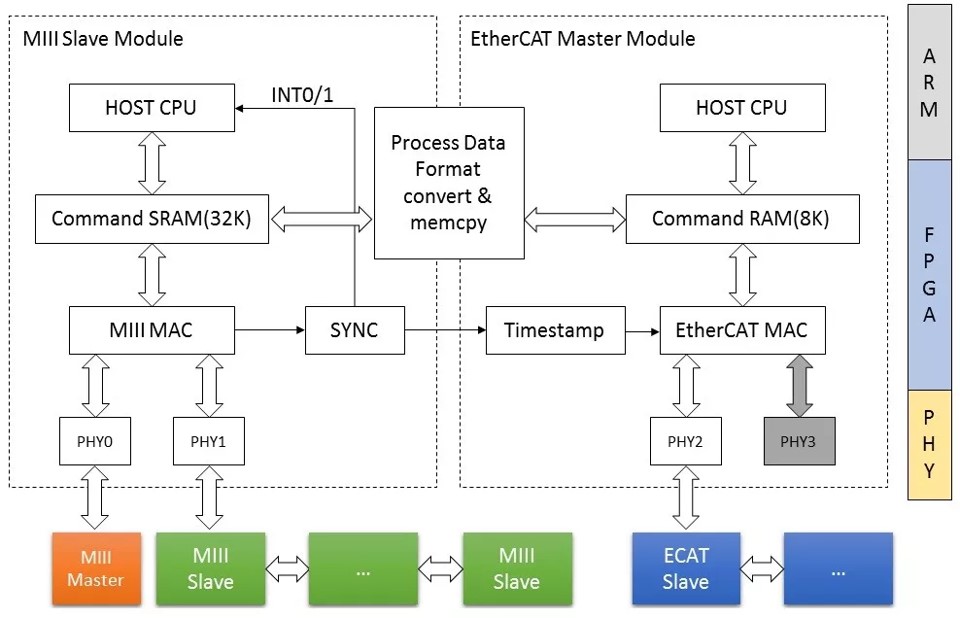 Technical Parameters
Main Processing Chip: Intel Cyclone V SoC 

Integrated ARM-Cortex A9 dual core processor
Integrated FPGA

Module Peripherals 

QSPI Flash (16MB)
DDR3 *16bit (512MB)
Integrated 4 channels 100M PHY

2 Mechatrolink Slave
2 EtherCAT Master

PCB

12 layers, 54mm*54mm
Stamp hole design
Conclusion
MIE SoC module is a low-cost module for industrial ethernet protocol conversion. FPGA achieves the conversion of protocol. It is efficient and in real-time. Moreover, the system is easy to setup and use.
---
For details of Macnica Cytech's products and solutions, please contact the company's regional offices, or send emails to stonemao@macnica.com. You may also follow Macnica Cytech's WeChat official account to leave messages, or leave messages through the company website: https://www.cytech.com/
Macnica Cytech's WeChat official account: