Cyclone V SoC Helio Board
Introduction
Helio is starter kit to evaluate latest Cyclone V SoC ARM-based FPGA. It provides rich features and software compatible with Altera SoC development board. Engineers can evaluate Cyclone V SoC with Helio board in an easy, simple, and cost effective way
Helio board Features
Main device: Cyclone V 5CSXFC6C6U23ES SoC with Dual-core ARM® Cortex™ A9 processor
Power device: LTC2978, LTC3605, LTC3613, LTC3026, LT3509
Memory: Micron DDR3 2Gb @ 32bit @ 533MHz ECC
Configuration: On board USB Blaster II, Configuration ROM, JTAG
Software:Yocto Linux BSP support
Interfaces:  HSMC, Gigabit Ethernet, USB 2.0 OTG, UART, SD card, GPIO, LCD
Other Features:  Power Supply Monitor by Linear Technology, Real Time clock, Buttons, LEDs, Switches
(Optional):Wide VGA(800X480)LCD touch panel, Wifi module, temperature, humidity sensors WVGA (800x480) TFT LCD
Helio View upgrade kit
WVGA (800x480) TFT LCD
Capacitive multi-touch
HDMI input
HDMI output
Two expansion connectors (PCIe female style for edge connector "pico" boards)
Acrylic mechanical design for clean integration with the Helio board to make a compact, portable unit
Helio board (Base board)

- Includes the Helio board, SD card, power and USB cables

Helio View upgrade kit

- Includes the LCD board, hardware to connect to Helio, and SD card with reference design
Block Diagram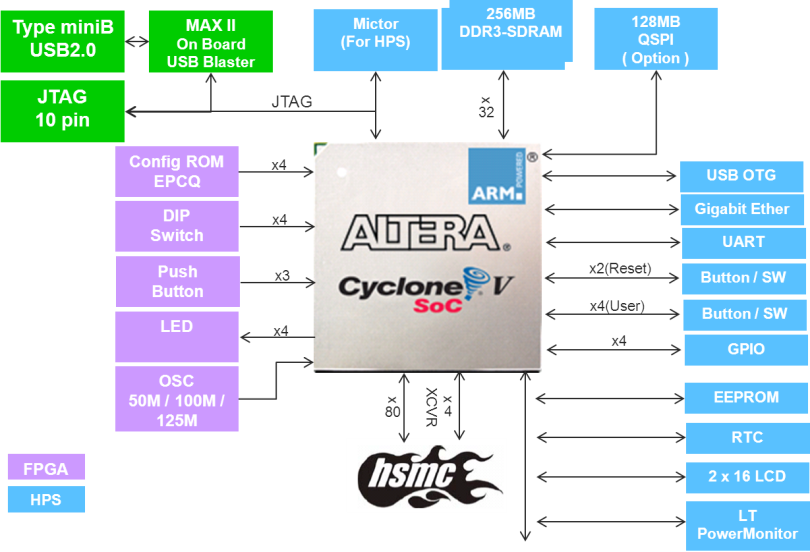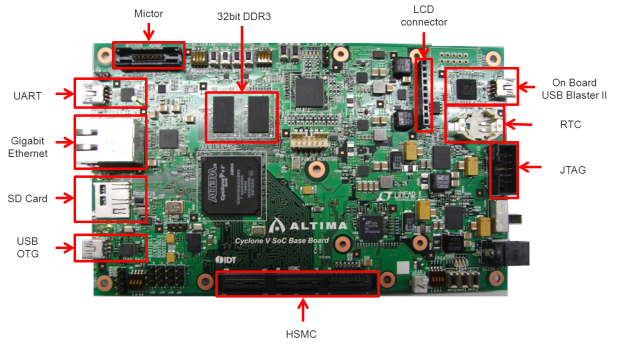 Local SoC Workshops
Cytech is pleased to offer hand-on workshop to provide practical experience for local engineers. Participants will be able to get started to design Cyclone V SoC project development rapidly.
Please come to here for more detail. http://www.cytech.com/kit/helio-workshop2013
Availability:
Macnica Cyclone® V SoC Helio Base Board will be available beginning in May 2013.
Helio Display upgrade kit will be available beginning in Oct 2013
For more enquiries and ordering, please contact our sales representative at local office or email to inquiry@cytech.com

About RocketBoards.org:
RocketBoards.org accelerates development by exchanging ideas with the open source community. Discover the right resources for your embedded solutions. Use one of the community-oriented development boards for the SoC, targeted for people interested in exploring and prototyping their applications.
http://www.rocketboards.org/foswiki/Documentation/MacnicaHelioSoCEvaluationKit
Last update: 6 Sept 2013